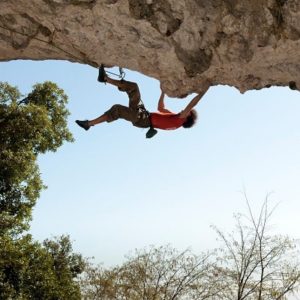 DESCRIPTION: Climbing is the instinct to climb, to overcome that vertical wall that we are facing. It is
the children's game that, once grown up, becomes a sport. Climbing is an activity that allows us to climb
mountains and walls according to our technical and athletic ability. We do it for the pleasure and
satisfaction that each sport gives to the enthusiasts, but probably also for something more. This is a sport for
everyone, from the youngest to the adults, enabling a correct mental and physical development.
WHEN: N.12 FRIDAY FROM HALF JUNE TO SEPT
GUIDE: climbing days are guided only by experienced and licensed Mountain Guides
MEETING POINT: your accomodation or ProrockOutdoor Office – Camaiore or other to be agreed
CLIMBING DAY
Enjoy rock climbing with our Mountain Guide in a nice spot in Tuscany
• TIME: FULL DAY or HALF DAY (from 8.00 am to 1.00 pm from 2.00 pm to 7.00 pm)
• WHERE: Climbing crags in Camaiore Valley
o Driving time by car to reach the trail : from 15 to 45 minutes
o Walking time from the car to the crags: 10 – 30 minutes
• DIFFICULTY: easy
• REQUIRED SKILLS: none
• PRICE FOR PERSON:
 FULL: € 50,00 (nr minimum 4 people)
 HALF DAY: € 35,00 (nr minimum 4 people)
• TECHNICAL MATERIAL REQUIRED: climbing shoes, harness, helmet.
• PRICE FOR PERSON TO RENT EQUIPMENT: KIT € 15,00 each item € 5,00
TERMS AND CONDITIONS:
• The price includes: guide's assistance during the activity.
• These activities are suitable for: Adults, teen-agers from 12 to 18 yrs if authorized by parents or tutors.
• The price do not includes: food and accomodation, transport to/from the meeting point and everything that
are not specified in "the price includes".
• Personal equipment: it's possible to hire it (see above) We recommend to bring with you: comfortable
clothes suitable to the season, trekking shoes, backpack with a spare t-shirt, rain jacket or small umbrella, hat,
food, water.
• Injury insurance. We offer MULTISPORT insurance (eur 4,50 a day, ask for details) unless you already
have one.
• Minimum number of partecipants: indicated in each activity- the activity can be done with a smaller or
larger number of participants but conditions must be agreed before.
• Please note: our Mountain Guides can arrange special individual itineraries as well as for assembled groups.
• Booking within and no later than 24 h before the day of the activity, via email or at Toscoblimbstore: please
always specify which activity you are interested in, nr of people and date. We will give you all the information,
meeting point, time and the guide's phone number. 25% of the cost shall be required in case of advance
booking. We accept payments with credit card or bank transfer.