Iscriviti alla nostra Newsletter
Kilometres of coastline and numerous pools in many bathing establishments make Versilia the ideal place for practising water sports. From swimming to canoeing, from surfing to diving up to more extreme sports such as wakeboarding, in Versilia there is something for everyone! Let's find out more about these sports that help to tone the body and relax the mind!
Swimming in the sea
With about 30 kilometres of coastline, swimming in Versilia is as easy as breathing! From the shore to the buoys, up and down the coast, there are many people who go swimming here and compete in initiatives such as the New Year's dive, with daredevils who jumped into the icy waters to beat the record number of participants of the previous year! There are also sea swimming courses for beginners to learn how to swim in currents and waves.
Swimming in the pool
Swimming pools are a great place to start learning to swim and also for swimming when the sea is too cold. In Versilia there are several communal swimming pools (Seravezza, Camaiore, Massarosa) and many private ones too, most of which are in the bathing establishments. There are courses of all kinds and for all ages, both group and individual lessons. You should contact the individual facilities for information on what they have to offer.
Canoeing and Kayaking
Another popular sport in Versilia is canoeing, both in the sea and on the lake. A part from a few bathing establishments that rent kayaks and give lessons on how to use them, most of the canoeing activity in Versilia takes place in the San Rocchino Quarry, between Viareggio and Massarosa, within the Migliarino San Rossore Massaciuccoli Regional Park. Here you can take part both in tourist activities (tours), lessons and competitions.
Sailing
The waters around Versilia are a perfect setting for sailing, which is much more than a sport, it's a lifestyle. After a sailing course for both adults and children, winds, weather conditions and manoeuvres will have no more secrets and you will be able to sail in complete safety. Throughout the summer look towards the sea: you will often come across regattas, with the elegant sails dancing on the horizon.
Waterskiing
Waterskiing is a water sport that combines skiing and surfing! Whoever wants to take up the sport will be pulled by a motorboat with a nylon rope at the end of which there is a triangular handle. This sport consists in gliding over the water on skis pulled by a speedboat. You can try this sport in Versilia in Lido di Camaiore.
Surfing
If you have already been on the piers of Versilia, you will probably have seen the surfers taking on the waves and the low temperatures on their surfboards. Historically, Versilia has been an ideal destination for surfing due to the high frequency waves crashing on the sandy sea floor and the south-west and mistral winds, which form small waves in the summer, perfect for learning the sport. Lido di Camaiore, Marina di Pietrasanta, Viareggio and Forte dei Marmi all have surf schools.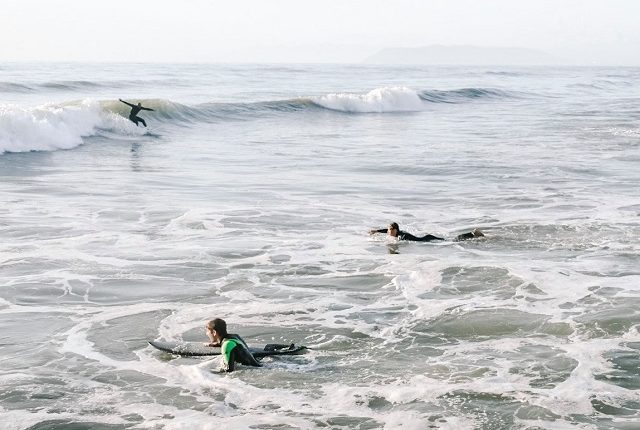 Wakeboarding
Wakeboarding is a sport practiced mostly in lakes, where you are pulled by a rope tied to a motorboat, a bit like waterskiing but instead of skis you have a board similar to a snowboard. Basically it is the fusion of waterskiing and snowboarding, an innovative sport recognised by the FISW (Italian Wakeboarding Federation) and the IWWF (International Waterski & Wakeboard Federation). In Versilia, the sports facility – the Cable Park – is in Massarosa, in Via del Brentino.
Flyboarding
Flyboarding is one of the more extreme water sports. It consists in wearing boots attached to a board that sprays water at high pressure from under your feet sending you several metres (up to 10!) into the air and, once you get the hang of it, you can do various stunts. The nearest place to try it is the Beach Club in Cinquale (MS). To practise this high-adrenaline sport you must be authorized by the Coast Guard.
Diving and scuba diving
Versilia has a long diving tradition: in 1957, in fact, the first Underwater Sports Club in the province of Lucca was born in Forte dei Marmi and it was also one of the first in Italy. Today you can take courses in diving, mini sub, sea rescue and competitive activities. In Forte dei Marmi and Viareggio there are various historical schools that offer courses.
Stand Up Paddle Surf (SUP)
Stand Up Paddle Surf (or simply SUP) is a sport that is spreading rapidly throughout Italy and consists in rowing while standing on a board that is a bit bigger than the surfboard. It is a bit like walking on water and is a great exercise for both legs and arms. You can do it in the sea, river or lake and it is important to know how to swim before trying it. In Versilia, there are schools that give lessons and hire equipment in Lido di Camaiore and Marina di Pietrasanta.